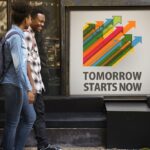 In a flurry of masks, covid announcements, and lockdown, I decided to study in Paris. I was terrified that if I stayed in the UK for university, I would never leave. So, I changed my degree idea from Biology to International Politics and changed my future home from Durham to Paris.
It was the best decision I have ever made.
So, for all the future travellers, students, or movers to Paris- here are some things I found during my time here.
The apartment search
Apartment searching is much more fun when you pretend to buy apartments with an unlimited supply of imaginary money. Instead, especially as a student, you have to sift through all the mouldy boxes without windows or ovens before finding something somewhat liveable for your budget.
However, there are many ways to find apartments in Paris. Here are some of the ways I have managed thus far:
Roommates: During the first 6 months, I was in a flatshare in a basement room with no windows. My three roommates were from my university, but we hadn't met before coming to Paris. Despite the mould and lack of ventilation, we were lucky to live merely 30 seconds walk from Notre Dame and paid 500 EU a month!
Couch surfing: Then, in a strange turn of events, I stopped going home. I started couch surfing in my friends' apartments. Out of pure kindness and also out of convenience, I unofficially moved into different friends' apartments for the last couple of months.
Room renting: My next move will be at the end of this month where I will be renting a room from a lawyer in a luxurious apartment in the centre of Paris. I heard about the place through good old fashioned word of mouth.
While these are unconventional living methods, it shows that apartments and living spaces are everywhere if you go out and look for them.
The University experience
During the Summer I went to visit both Bristol University and Lancaster University in England, to see my friends. There was a part of me that was nostalgic for the campus university experience. In Paris, my university includes only around 170 students. Only 40 in my year. In comparison to Bristol and Lancaster which both hold over 15 thousand, it is tiny. This means that at my university everyone knows each other, studies the same subjects, and are a community of English speakers.
As a result, of the small class sizes and lack of variation in interests, most of the friends I have made are from outside of my university. We go to museums, cinemas, bars, restaurants together in Paris- it is an amazing opportunity for us. When living in university halls, with all the other students, this is much harder to find.
Small university = less variation of people.
Living in a city is the perfect place to make international friends.
So much free time
University is much more self-taught than high school is. This means that if you plan out your time efficiently, you have a lot of time for yourself. For example, I only have around 8 hours of contact time in university, which means that provided I study for some of it, I can have the rest for myself. I use a chunk of the time I would have otherwise had at school to work. Otherwise, I don't think I could afford the high Parisian prices! I do babysit for 9 hours a week and also free-lance write articles.
Surprisingly, there is still a lot of time leftover. This is the time that is less planned and associated with socialising. I am a social butterfly and prefer to be with people most of the time.
If you can, work! You can then save money and also build experience for future jobs.
Remember to have fun: I think people often forget that they live once. You do, and there is little point in wasting your youth by not having fun.
Work efficiently: If you plan it right and work on the most important things, there is time to be healthy, happy, educated, and cultured.
V.i.S.d.P.:
Morgan Anne Woodward
Student / Blogger
Contact:
Thomas Friese
Unter den Eichen 108a
12203 Berlin
Tel .: +49 172 3801981
Email: frieseberlin@aol.com
About Thomas Friese:
The real estate expert and project developer Thomas Friese, Berlin / Oldenburg (Lower Saxony) has been training in the tax area since the mid-1970s in the area of ​​real estate development and marketing.
PRESSEKONTAKT
Projektentwickler & Immobilienexperte
Thomas Friese
Unter den Eichen 108a
12203 Berlin
Website: https://www.bauen-solide.de
E-Mail : frieseberlin@aol.com
Telefon: +49 172 3801981